Collaboration ECONO-PAK GmbH and Neugart GmbH on case packer SP-I-24
februari 1, 2017
The Rolls-Royce of packaging machines
As the Sales Manager of ECONO-PAK, Markus Zerbe is committed to having the highest-quality self-developed packaging systems. "We can only guarantee that our machines have a high degree of operational reliability and quality by exclusively collaborating with well-known, globally operating component manufacturers," says Zerbe. He has been with the company for over two decades, and lives for the ECONO-PAK brand. "We are crazy in a positive way as a machine builder," explains Zerbe, which is reflected in the quality of the high-end packaging machines.
Task
The SP-I-24 case packer is not just a packaging machine, but a highly complex, fully automated packaging center. Cardboard packaging that has been cut to size is put into the machine as a secondary packaging tray or wrap-around. At the same time, the stacking unit picks up several products that have already been packed and positions them inside the secondary packaging. This is folded in several process steps, glue is applied and the box is closed as a finished package in the closing unit. All required movements are triggered using a servo motor and a planetary gearbox. Since each type of packaging has different space and performance requirements, the ECONO-PAK packaging machine must have an extremely flexible design, and the component supplier must also be able to meet specific customer requirements. The previous gearbox supplier did not have this flexibility, which is why a new partner was found. This partner had to guarantee the necessary operational reliability of their products and be able to demonstrate flexibility when modifications were required.
Solution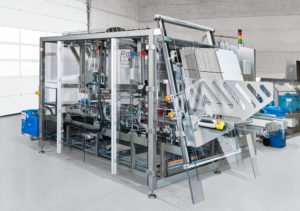 After extensive validation by means of endurance tests in the company's own packaging machines, Neugart gearboxes were successfully installed and tested in field testing machines. On this basis, the Neugart planetary gearbox was approved for series production. Neugart also made the grade because of its impressive technical performance as a supplier. According to ECONO-PAK, the harmonious overall experience and consultancy package was decisive in selecting Neugart as a gearbox partner. Experienced ECONO-PAK fitters describe Neugart gearboxes as "simply good", or confirm after careful consideration: "In all of the years, we have never had to replace a Neugart gearbox in the field." Only components with food-compatible lubrication are installed in the ECONO-PAK systems. Even in the event of a collision or failure, the packaged product can therefore never be contaminated. About 30% of all gearboxes that are used deviate from the usual market standard, and are therefore customized. Time and time again, Neugart has proven that the company is structurally aligned so that it can technically adapt to these modifications at any time, and is capable of implementing them with fastest reaction speeds.
Looking ahead
In the opinion of ECONO-PAK, the hygienic aspects of packaging machines are likely to increase in the future. The entire machine frame is currently made from stainless steel. However, it will also become increasingly important to be able to clean the components. In detail, this means that edges and locations where deposits can occur must be eliminated. Furthermore, components must be protected with coatings, or even have a stainless steel surface. Because of large-scale cleaning processes, the components are also subjected to more fluids, which require higher protection classes. In close collaboration between ECONO-PAK and Neugart, these future trends will be observed in order to adapt to changes on the market in a quick and well-equipped way.
The movement of drive technology of the case packer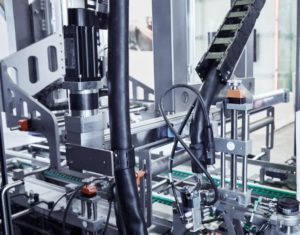 The stacking unit stacks the individual packaging, which is pushed into the secondary packaging using a "transfer device". This movement is made using a toothed belt axis, which is powered by a servo motor and a Neugart PLE planetary gearbox. The glue head is positioned inside the gluing station using a spindle and toothed belt axis (as an X-Z system). The toothed belt unit is powered by a PLE planetary gearbox when doing this. The drive in the closing station, where little space is available, is also provided by a Neugart gearbox. In this case a WPLE right angle planetary gearbox is used. The glued cardboard box flaps are folded over and pressed on in this process.
Further information on company Neugart GmbH are available here: www.neugart.com or www.neugart.com/de-de.