Unique packaging for Austrias´most popular doughnuts
février 10, 2015
With over 33 mio. produced doughnuts per year, the bakery Kuchen-Peter Backwaren GmbH is Austrias largest doughnut manufacturer. Up to now they packed their doughnuts into outer cartons or trays manually.
After an intense and successful planning phase the producer of baked goods obtained its first ECONO-PAK Top Load Packaging Line in September 2014. Currently four different formats can be erected, filled and closed on the production plant.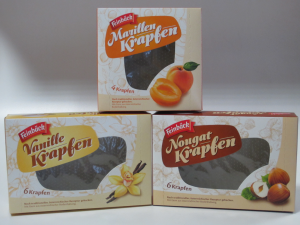 The innovative carton is a unique selling proposition for doughnut packagings. It captivates with its high-quality design as well as with a perfect presentation of the products by use of a set-in viewing window. Thereby Kuchen-Peter achieves a clear differenciation to its competitors and appeals to new target groups on the Austrian Trade Market. All requirements of the bakery to its new packaging line are well implemented by ECONO-PAK´s carton erector FA-V-1300 and the compatible carton closer. It is possible to pack 14.000 doughnuts/ per hour with this packaging line in case of an optimal production capacity.
Kuchen Peter has a big focus on a compact size of the machines as well as on the suitability for wet areas and fullfillment of highest hygienic demands. These requirements are guaranteed through a good quality of the used materials and the construction of the machines in stainless steel design.
Particularly significant is the line structure. It allows a fast and easy change of the used conveyor system. The obtained space can effectively be used for other packaging types.
As a flexible, experienced and leading manufacturer of Top Load Packaging Lines in the european area, ECONO-PAK is a reliable partner for the company Kuchen Peter Backwaren GmbH.