Exhibition Review FachPack 2015 in Nuremberg
oktober 23, 2015
New booth concept invites visitors to linger
This year, the ECONO-PAK GmbH presented itself at the FachPack 2015 in Nuremberg with an even more modern booth. The revised booth concept with its many architectural highlights such as the glassy cabin with integrated flat screen, the information desk located on the edge of the corridor and the quiet conversation area with lounge character, was very well received both by the ECONO-PAK employees as well as by the visitors. Through this open concept a relaxed and cozy atmosphere was created, which invited the guests to linger. In this positive environment, many good and constructive conversations with customers were conducted.
Particularly high was the number of newly interested companies who visited the booth. Through constructive improvements and an individual orientation of ECONO-PAK´s machine portfolio are no longer only food and beverage manufacturer customers of ECONO-PAK. The customers belong to other industries such as automotive engineering, electrical engineering and household accessories as well.
In addition to the many German visitors also guests from other European countries traveled to FachPack. Therefore, ECONO-PAK is particularly pleased about the fact that the sales partners RLC / Zeiler, Mr. Markus Feller and MCA from France, Estelle le Pape and Lucy Vintenant, were present at the booth as a contact person.
The visitors were enthusiastic about the presented Top Load line consisting of HFAI-S, EV and link chain conveyor with a compact construction and an efficient machine technology. Here the complete packaging process could be pursued from erecting the carton, over manual loading up to closing of the carton. In the glass showcases different packaging techniques were exhibited.
The guests who were visiting the FachPack wanted to get an overview of the latest packaging systems, because the packaging fair is booming and there are many companies that plan further investments in order to realize upcoming projects. We therefore look forward to many interesting inquiries from our existing and new customers, for which we continue to design packaging machines and lines on a high technical level.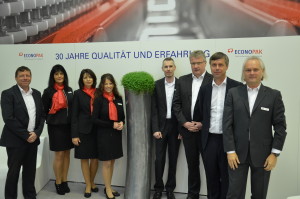 The ECONO-PAK GmbH would like to thank all our customers and suppliers for their interest in the company and our packaging machines, as well as the sales partners of RLC / Zeiler and MCA for their active support during the three days of the exhibition.