Convenience
Cutting-edge packaging solution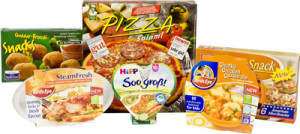 The constantly increasing consumer demand for new convenience products requires adjustable packaging processes. The product has to be fresh and constantly available; furthermore it has to be packaged according to consumer needs and has to be suitable for microwave and oven cooking. Precise and customized packaging machines ensure that your product reaches the end customer in perfect condition. By means of fast format change, efficient product handling and established machine technology the highest possible production capacity is provided.
Productline example
Speed and efficiency: Convincing with pizza cartons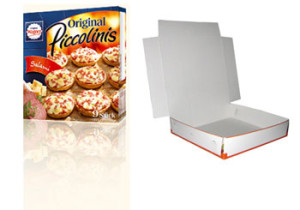 A high-speed carton closer HV-S-LD-L/R with servo turning-station closes approximately 120 pizza cartons/minute. Special features of this closing machine consist in the high performance, the little required space as well as the perfect matching of interfaces of down- and upstream machines.
Productline example
Convenience products packed precisely
The line for the supplier of convenience goods takes over the products from a conveyor system, wraps them in sleeves, groups them and finally packs them in palletizable outer cartons. The delivered line comprises a sleeve machine type BM150 and a case packer. At present the line is designed to handle 14 formats differing in shape and size. In a one-shift operation 68.400 sleeves and 11.400 palletizable outer cartons are processed at optimal packaging conditions. The line performs the requested production speed as well as answers the demand for flexibility facilitating the change to different formats and the possibility to extend the line in case of future product modifications.