Ice-cream
Reliable and failure-free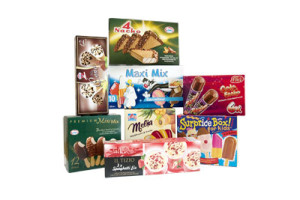 Permanently low temperatures are of utmost importance for the production and packaging of ice-cream. Despite these challenging conditions our packaging lines run reliably at high performance. The product quality is ensured by high technical precision. Fast and easy format changes offer flexible as well as customized solutions for the entire range of your products.
Productline example
Cool Runnings: Packaging line for ice-cream cones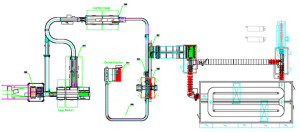 The concept solution for the Spanish ice-cream manufacturer indicated below processes approximately 23.000 ice-cream cones, forms and closes 5.700 cartons and packs 480 palletizable outer cartons per hour. The carton erector type FA-V-1600-3 forms the cartons, conveyors transfer them to the loading unit and on to the carton closer type GVM65-LD-R. The closed cartons run through a 180° curve and are supplied to the case packer type KIW that packs 12 cartons in one outer carton. The special features of this line consist in the construction according to protection class IP55 and the comprehensive matching of interfaces of various aggregates and machines manufactured by other suppliers.